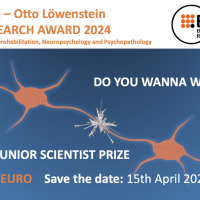 The BDH Federal Association for Rehabilitation — a charity serving people with neuro-disabilities through clinical services, social rehabilitation support, and research for more than 100 years — announces this biennial award to continue into 2024. It is named after Professor Otto Löwenstein in recognition of his contribution to neurological research.
Entries for the BDH Otto Löwenstein Research Award are welcome from clinicians, researchers and allied health professionals. The submission deadline is April 15, 2024.
For more information and to access the application form, visit the award's webpage at https://www.bdh-reha.de/de/themen/wissenschaft-forschung-otto-loewenstein-preis.php.