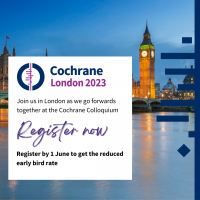 The Next Cochrane Colloquium will be held on 4–6 September 2023, at Queen Elizabeth II (QEII) Centre in London, with satellite events and meetings on September 3.
This year's theme is "Forward together for trusted evidence" to explore future challenges in evidence production and to celebrate what has been accomplished to date. The Colloquium is an annual conference for anyone interested in evidence synthesis and evidence-based healthcare, including those engaged in evidence production, co-production, dissemination, implementation, and policymaking, as well as those making individual healthcare decisions.
Registering before June 1,  2023, gives access to the reduced early bird rate!
Click here for registration terms and conditions.
Take a look at the provisional programme here.