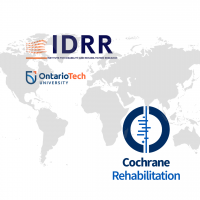 Cochrane Rehabilitation and the Institute for Disability and Rehabilitation Research (IDRR) at Ontario Tech University are pleased to announce the signature of a collaboration agreement.  The new collaboration will focus on developing solutions to common methodological challenges faced when conducting systematic reviews in the field of rehabilitation, and on engaging in joint knowledge transfer initiatives to improve the conduct of systematic reviews of rehabilitation interventions.
Here is a brief description of the IDRR:
The Institute for Disability and Rehabilitation Research (IDRR) is an innovative research hub that investigates issues related to disability and rehabilitation from the perspective of the health sciences and social sciences and humanities. The IDRR, established in 2021 builds on the work conducted at the Centre for Disability Prevention and Rehabilitation (CDPR). The CDPR was created in 2012 through a partnership between the Faculty of Health Sciences at Ontario Tech University and Canadian Memorial Chiropractic College (CMCC). The IDRR is committed to conduct applied research that is relevant to policymakers involved in disability and rehabilitation.
The Institute for Disability and Rehabilitation Research: https://idrr.ontariotechu.ca/
The Ontario Tech University: https://ontariotechu.ca/