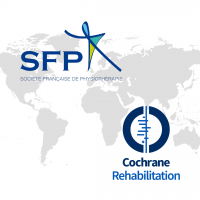 Cochrane Rehabilitation and The French Society of Physiotherapy are pleased to announce the signature of a partnership.
Here is a brief description of the SFP and its organization:
The members of the French Society of Physiotherapy (SFP) are Clinicians, researchers, and Educators in the Physiotherapy field working in France. The French Society of Physiotherapy is managed by a board of directors composed of a maximum of 12 members. More than 2,000 PTs are members of the SFP. The members are divided into 3colleges (college of practice, college of education, college of life sciences). The SFP seeks to gather PTs in all areas of practice and work in close collaboration with more than 12 fields of PT associations from Sport, Paediatrics, Vestibular disorders, etc. Working groups are also created to work on national and international projects such as the organization of webinars or congress. 
The SFP seeks to create a common working space that aims to promote scientific knowledge related to patient care by physiotherapists in the Rehabilitation field. The overall objectives are to develop and implement joint activities that support and further strengthen the use of health evidence by people making decisions about health, from the individual patient to international health policy-makers.