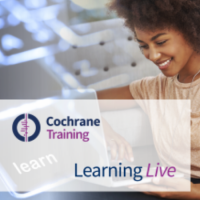 The Learning Live series by Cochrane Training will host two free interactive webinars (held twice to cover global timezones) on physical rehabilitation after stroke. The webinars are 90 minutes each and are primarily aimed at people with an interest in, or experience of, physical rehabilitation after stroke. You will hear why, and how, a group of stroke survivors, carers, and physiotherapists worked together to co-develop a model that describes physical rehabilitation after stroke. Polls will be run to capture thoughts from the audience, with the possibility to comment and ask questions throughout the session. The main presenters are: Alex Todhunter-Brown, Senior Research Fellow at the Nursing, Midwifery and Allied Health Professions (NMAHP) Research Unit, Glasgow Caledonian University, and member of the Advisory Board of Cochrane Rehabilitation; Richard Morley, Cochrane's Consumer Engagement Officer; Gillian Baer, Senior Lecturer in Physiotherapy in the School of Health Sciences, Queen Margaret University, Edinburgh.
The webinars are completely free and cover two days: 29 March (14:00 UTC) and 31 March (07:00 UTC) 2022.
Here is the link to discover more about it and to register for the event.