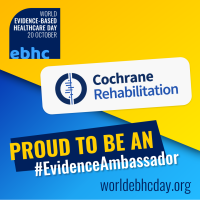 World EBHC Day is celebrated on October 20 in partnership with JBI, Cochrane, the Campbell Collaboration, Guidelines International Network (GIN), the Institute for Evidence-Based Healthcare, the Centre for Evidence-based Health Care, and the National Institute for Health and Care Excellence (NICE).
 
The campaign for World EBHC Day 2023 is centered on Evidence and Global Health Equity. Evidence is a prerequisite for achieving global health equity. Equitable health policies, systems, and services are all dependent on functioning evidence ecosystems: the generation and application of evidence, whether by the public, health workers, researchers, or policymakers.
In Cochrane Rehabilitation, we have contributed with two blogs:
The 2023 campaign is a call to action to take concrete steps toward equity-centered and evidence-informed decision making, drawing attention to the need to enhance collaboration, information sharing, and networking to increase access to research evidence and to move toward integrated systems that prioritize equity, inclusivity, and multisectoral participation of all actors.
 
Learn more about World EBHC Day, and how individuals and organizations can get involved, at https://worldebhcday.org/take-action.