5th Anniversary: the five years of Cochrane Rehabilitation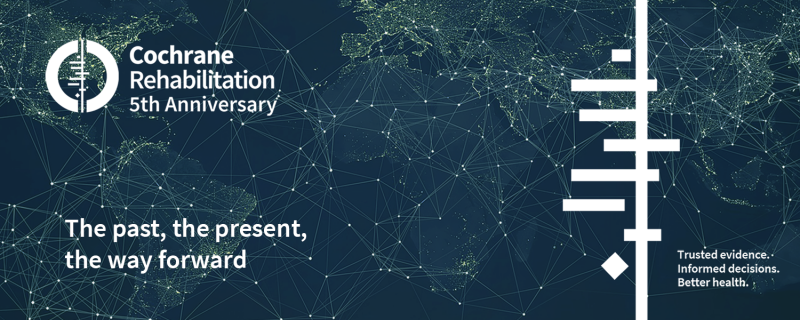 Cochrane Rehabilitation is approaching its fifth anniversary. Much has been accomplished and new challenges are awaiting us in the future.
To celebrate our anniversary, we have decided to organize a free totally online event that will cover three days: the 13th, 14th, and 16th of December 2021.
December 13-14

, 2021
This meeting will cover two days with different time zones, to allow those living in different areas of the world to be able to attend. The event is focused on walking through what has been done over the past five years by Cochrane Rehabilitation, through a conversation with those who have collaborated, are collaborating, or are an active part of our organization. It will be structured around a series of interviews with prominent speakers on a diversity of important topics. Young and knowledgeable faces from the Cochrane Rehabilitation family will conduct the interviews. There will be dedicated Q&A time to engage with the various speakers.
December 16, 2021
The second part of the event is focused on the future of Cochrane Rehabilitation. The aim is to collect information, insights, and suggestions from and with participants to outline what Cochrane Rehabilitation could be and do in the next five years. After an introduction, the core of the event consists of six different workshops, taking place simultaneously, focusing on specific topics important for the world of rehabilitation. In these sessions, you can participate actively. There will be some facilitators to moderate the discussion and a rapporteur who will report what has been discussed in a plenary session, followed by a conclusion of the event. In the registration form, you can give two preferences in order to reserve your place in your favorite workshop!
You can see the programme here.
Click here to download the brochure.
Registration is closed.
Watch Stefano Negrini, Director of Cochrane Rehabilitation, give his greetings and introduce the event:
In the meantime, follow us on our social channels to learn more about the world of Cochrane Rehabilitation. Stay connected!
We look forward to seeing you!